"Accelerate growth and expand margin" – Isn't a buzz word statement anymore
Businesses love the statement "Accelerate growth and expand margin." They also like statements like "reduce risk," "improve market share," "multiply shareholder value,"  "sustainable value creation," and so on.   Many reputed consulting firms modify these statements in many ways to sell their expensive $400 an hour services.  Please don't get me wrong, I am not diminishing the value of these services. What I want to point out is that with the innovations and disruptions happening in the field of Data Science, many of these blanket and seemingly "buzz word" statements can be mathematically validated before executing billions of dollars in investments. The more I think of it, the more it makes sense for organizations to combine business consulting and Data Sciences to unleash true value.
Are these Data science problems or Business Consulting problems?
According to IDC's Big Data and Analytics Maturity Survey, the following areas have been identified as significant drivers of Big Data and Analytics initiatives:
• Product or Service Improvement and Innovation
• Customer Service and Support
• Market and Competitive Intelligence
• Pricing Strategies and Programs
• Process and Operations Optimization and Control
• Customer Acquisition and/or Retention
• Regulatory Compliance and Financial Controls
• IT Optimization and/or Modernization
• Supply Chain Management and Logistics
• Human Capital Management
• Design, Maintenance and Use of Plants, Facilities, and Equipment
• Operational Fraud and Malicious Risk Management
This is a list for Data Science, but one can also see that almost all of the above are of interest in business consulting. In many organizations today, Data Science teams work closely with engineering teams but they are part of business teams. This was not the case a few years back.
Decisions Based on Intuition Should be a Last Resort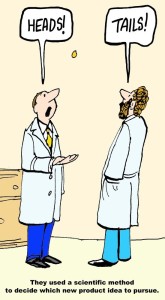 Let us look at the core area of focus for many businesses. From our list, let's take for an example, "Product or Service Improvement and Innovation." Market success or failure in this area will probably define the future existence of the company. How does a company know if the new product or service will be a success?  Many companies end up taking big investment decisions intuitively, but this should be a last resort. Taking decisions intuitively and quickly makes sense when you are on a deadline and have no data to back you up. Looking at historical data is a good start but not good enough for big tick-et spending. If you are making a long term investment decision without empirical evidence, you are probably taking too much risk.  When technology is there to help you to validate your decisions, why not use it?
Organizations should not get bamboozled by big pitches and succumb to spending billions of dollars. There are many fancy names for the combination of business consulting and data sciences.  I like the term "Decision Sciences."  Whether an organization is embracing technology or not, it has a clear choice. An organization can improve its decision making by exploiting both business consulting and Data Science offerings.  Theoretically, organizations can validate every major investment decision.
Amidst all the challenges that senior citizens face, living independently, managing health, and maintaining social connections are perhaps their most important priorities. Nowadays, many tech companies are focused on developing
On May 28th 2016, we had a great interaction with Haresh Ved. We tried to understand the perspective of a venture capitalist. We learnt what an investor looks